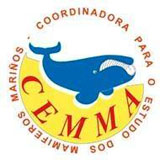 EXHIBITIONS
A didactic way to transmit our knowledge about the species we study is through exhibitions for museums, educational centers, associations, ... This can be carried out through traveling exhibitions or through the preparation and temporary borrow of pieces.
At this moment we have 2 available traveling exhibitions:
- Cetacean species. Going through the anatomy, problems and characteristics of each species.

- History of whaling in Galicia.
COMPLETE WEB by CEMMA is licensed under a Creative Commons Reconocimiento-No comercial-Sin obras derivadas 3.0 España License