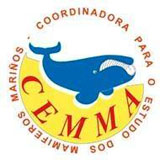 ESPECIES DE CETÁCEOS DE GALICIA
| | | | | | |
| --- | --- | --- | --- | --- | --- |
| N | ESPECIE | NOME GALEGO | NOMBRE ESPAÑOL | ENGLISH NAME | |
| 1 | Eubalaena glacialis | Balea vasca | Ballena franca | Right whale | (1) |
| 2 | Balaenoptera physalus | Balea común | Rorcual común | Fin whale | (1) |
| 3 | Balaenoptera musculus | Balea azul | Rorcual azul | Blue whale | (1) |
| 4 | Balaenoptera borealis | Balera boreal | Rorcual boreal | Sei whale | (1) |
| 5 | Balaenoptera acutorostrata | Balea alibranca | Rorcual aliblanco | Minke whale | (1) |
| 6 | Megaptera novaeangliae | Xibarte | Yubarta | Humpback whale | (1) |
| 7 | Physeter macrocephalus | Cachalote | Cachalote | Sperm whale | (1) |
| 8 | Kogia breviceps | Cachalote pequeno | Cachalote pigmeo | Pygmy sperm whale | (1) |
| 9 | Kogia sima | Cachalote enano | Cachalote enano | Dwarf sperm whale | CEMMA 2019 |
| 10 | Ziphius cavirostris | Cifio común ou de Cuvier | Zifio común o de Cuvier | Cuvier's beaked whale | (1) |
| 11 | Mesoplodon bidens | Cifio de Sowerby | Zifio de Sowerby | Sowerby's beaked whale | (1) |
| 12 | Mesoplodon mirus | Cifio de True | Zifio de True | True's beaked whale | (2) |
| 13 | Mesoplodon densirostris | Cifio de Blainville | Zifio de Blainville | Blainville's beaked whale | (2) |
| 14 | Phocoena phocoena | Toniña | Marsopa | Harbour porpoise | (1) |
| 15 | Tursiops truncatus | Arroz | Delfín mular | Bottlenose dolphin | (1) |
| 16 | Delphinus delphis | Golfiño común | Delfín común | Common dolphin | (1) |
| 17 | Stenella coeruleoalba | Golfiño riscado | Delfín listado | Striped dolphin | (1) |
| 18 | Globicephala melas | Caldeirón común | Calderón común | Long-finned pilot whale | (1) |
| 19 | Globicephala macrorhynchus | Caldeirón tropical | Calderón tropical | Short-finned pilot whale | (3) |
| 20 | Grampus griseus | Arroaz boto | Delfín gris | Risso's dolphin | (1) |
| 21 | Orcinus orca | Candorca | Orca | Orca or killer whale | (1) |
| 22 | Pseudorca crassidens | Falsa candorca | Falsa orca | False orca or false killer whale | (1) |
| 23 | Lagenorhynchus acutus | Arroaz pinto | Delfín de flancos blancos | White-sided dolphin | (1) |
| 24 | Steno bredanensis | Golfiño de dentes rugosos | Delfín de dientes rugosos | Rough-toothed dolphin | CEMMA 2021 |
| EXTINTA | Eschrichtius robustus | Balea cincenta do Atlántico | Ballena gris del Atlántico | Atlantic Grey whale | (4) |
Cita: CEMMA. 2021. Especies de cetáceos de Galicia. www.cemma.org/especies_gal.htm
(1) Penas-Patiño X.M. and Piñeiro A. 1989. Cetáceos, Focas e Tartarugas Mariñas das Costas Ibéricas. Santiago de Compostela: Conselleria de pesca. Xunta de Galicia, 379 pp.
(2) Covelo, P., Martínez-Cedeira, J., Llavona, A., Díaz, J.I. and López, A. 2016. Strandings of beaked whales (Ziphiidae) in Galicia (NW Spain) between 1990 and 2013. Journal of the Marine Biological Association of the UK. Vol 96-4, 925-931.
(3) González, A.F. and López, A. 2000. First recorded mass stranding of short-finned pilot whales ( Globicephala macrorhynchus Gray, 1846) in the Northeastern Atlantic. Marine Mammals Science 16(3):640-646.
(4) Rey-Iglesia A., Martínez-Cedeira J., López A., Fernández R and Campos P.F. 2018. The genetic history of whaling in the Cantabrian Sea during the 13th-18th centuries: were north atlantic right whales ( Eubalaena glacialis ) the main target species? Journal of Archaeological Science Reports. Vol 18: 393-398.
COMPLETE WEB by CEMMA is licensed under a Creative Commons Reconocimiento-No comercial-Sin obras derivadas 3.0 España License